The best way to get to know her is with an Audrey Hollander interview and that is exactly what we have for you here today!
It's been almost a year since anyone has heard anything from the red headed porn sensation that is Audrey Hollander.   She has an official twitter (@RealAudreyXXX) but she doesn't tweet all that often.  So what in the world has she been up to lately? (Interview from February 2012)  Click here to read another, older interview she did years ago.
My Exclusive Audrey Hollander Interview
So Audrey thanks for taking the time to talk to us.  Now that you are officially retired from porn, what in the world have you been up to lately?  Nobody seems to have heard anything from you in a long time.
AUDREY:  I've been doing absolutely nothing.  Just enjoying my quiet life.
It's hard to believe that one of the most prolific performers in adult entertainment who alone has 30 AVN nominations is enjoying a quiet life.  Nothing even the slightest bit naughty going on?
AUDREY:  30 nominations? Really?  I had no idea.  I probably wouldn't have guessed even half of that.  But ya, I really am just a normal girl.  I enjoy things that most other women like to do. I love to hang out at the pool, watch my favorite prime-time TV shows and read a good book.  But there might be one tiny difference.  Most normal girls probably don't have an entire bedroom dedicated to different sex toys. 🙂
A good southern girl with a crazy amount of dildos. I love it!  So are you still living in LA?
AUDREY:  No.  I never really lived in LA.  I would come down a few times a year for work but I've lived in Texas for the last 10 years or so.  Otto and I had a house near Lake Houston.  But I moved back home to Kentucky after Otto and I got a divorce.  I wanted to be closer to my family.
I'm sorry to hear about your breakup.  Is there anything you care to share with us about it?  I know you and Otto where together a long time.
AUDREY:  No, I don't really want to talk about my breakup with Otto. I  prefer to focus more on the positive.  I don't like "dishing dirt".  It's really just not my way.
I completely understand and respect that.  So let's talk more about you and your career.  Have you thought about performing again?
AUDREY:  I did at first.  I gave it a lot of thought.  I talked to some friends in the industry about it and after my divorce was final I was just a bit away from booking a flight to LA for a few weeks to make some extra money.  But then the more I thought about it, the more I realized that wasn't really a life I wanted for myself anymore.  I don't have anything against porn.  I don't regret anything I have ever done either.  I loved the entire experience, every second of it.  I was just in a place where I was changing and wanted to try to do something new with my life.  It's hard to explain but when you go through a divorce after being married for so long, it really just changes you.
Have you done anything absolutely crazy lately?
AUDREY:  Depends on what you mean by crazy.  I've really lived a pretty quiet and boring life this past year.  I did cut my hair and dye it a darker color.  Does that count?
I think I seen that picture you tweeted.  You look great with darker hair.  Very different from how I'm used to seeing you, but I still love it!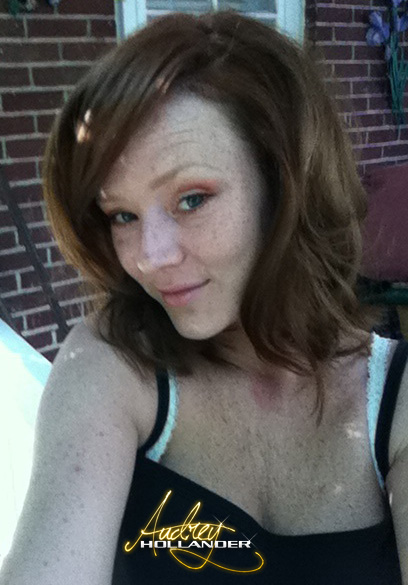 If the perfect script came along would you do it?
AUDREY:  I would probably consider it.  It really just depends on what the project is and of course how much it pays.  I'm not against doing porn.  I loved every second of what I did during my career.  In fact, I talked to one company about going under contract with them not to long ago but that fell through.   They were going through some changes in their company so the timing just wasn't right.  I love porn.  I love my fans.  So yes if the right deal came my way I would probably jump on it.
Anything specific you would like to do?
AUDREY:  I've done the extreme hardcore stuff for most of my career.  I can't think of many movies where I didn't do anal or double vag.  I would love to do a movie that wasn't so out there. I would love a movie where I could try more acting.  I studied acting and I like it a lot.  I would love to be a part of a high budget, erotic thriller.  I think that would be fun.
Do you get recognized by fans when you are out in public?
AUDREY:  I didn't so much when I was living in Texas but this last year being back home in Kentucky I have gotten in more and more.  It's kinda funny when it happens.  Most times people just sort of stare and don't say much but everyone once in awhile someone will be like "I know you, right?  Are you ….".   It's like they don't want to come out and go OMG IT'S AUDREY HOLLANDER!  It's like if they aren't sure if they should come right out and say they recognize me.
I know you were in the Twilight sex parody.  You were great.  They couldn't have cast that role better.  Did you read the Twilight trilogy?
AUDREY:  Yes.  I read all the Twilight books and watched the first movie about 5, 6 or maybe 7 times to prepare for my role.  I didn't really do a lot of movies during the last few years of my career but the ones I did do, I took very serious and wanted to get the part down in the way it should be. I took my job very serious.

Otto taught me what it meant to be a professional.  Anyone can just show up and have sex on camera but to be good at what you do meant being prepared.  Not only do you know your own lines but the entire concept and story of what the movie is about long before you ever show up on set.  In addition always show up prepared with your own makeup case, a few extra consume and shoe choices just in case and a selection of sex toys doesn't hurt either.  Most of the times these things are provided for you on set but you just never know when something will happen.  That is were the real pros shine.  They have what they need.  No need for long delays on the set while costume problems are addressed.
Have you heard about the new trilogy they are calling the next Twilight, The Hunger Games?
AUDREY:  Yes!  I just finished reading the Hunter Games series.  It's nothing like Twilight at all.  Very good story though.  I wasn't a big fan of the first book but the 2nd and 3rd books were great.  The story really picked up at the end.  It's not a story that is meant to be read alone.  You really need to commit to reading all three of the books together to truly enjoy the whole story.
If they were going to make a pornographic parody, who would you see yourself as?
AUDREY:  They make porno parodies for pretty much every movie so no doubt they will make one or two about The Hunger Games as well.  As far as the character, I usually like the more unusual roles.  I think I would make a great Effie Trinket.  My sex scene would probably be with Haymitch Abernathy.  I would take him on the train on our way back to the Capital and fuck that drunk ass boy into sobriety.
Of the current crop of stars, who do you think would make a good Katniss Everdeen?
AUDREY:  I don't really know a lot of the girls in the business right now.  I do think that the girl playing her in the movie version, Jennifer Lawrence looks a little like Jenna Haze.  ** This photo of Audrey Hollander was actually from a movie she did a few years ago called Catherine.
You know you are right, she does look a little like Jenna Haze.  Surely perfect for a porno adaption of the movie.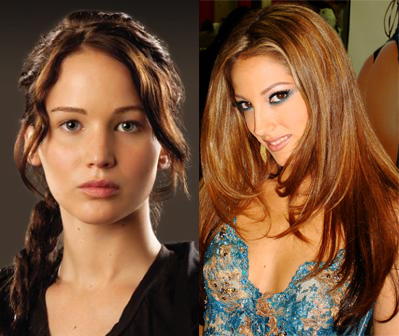 It's always so great talking with you Audrey.  You are so full of personality and life.   You really do have such a great, bubbly personality.  It's hard to imagine the queen of extreme is so upbeat and personable. I don't know why, I just seems like when we talk you are more like a cheerleader.  I love that about you.  It's always such a joy to speak to you and I hope we can do it again soon.  Maybe I can ask some of your fans to submit some questions and we can sit down sometime in the future and do this again?
AUDREY:  That sounds fine to me.  I look forward to speaking with you again soon and answering any questions that my fans have for me.
** At the time this Audrey Hollander interview was done it was unknown that Jenna Haze would retire just a month or so later.  Maybe when we chat with her again in the future we can ask her an updated version of the question now that we know Jenna Haze is no longer performing on camera.